Comment Save: Free Chrome Extension
Comment Save is a free Chrome extension that makes social networking more fun and interesting for you. This free extension can help you to save your posts and comments from your social networking accounts including Facebook YouTube and Twitter. Let's see if this freeware is worth trying for social networking lovers or not.
If you are a regular YouTube Twitter Facebook and other social networking site visitor it is easy to forget the comment you posted last week or last day. So if you wish to have a software or a free Google Chrome Extension that can help you to keep track of the comments you posted recently or save them Comment Save is the best option for you. You can save the comments you want and also check the last comment posted by you with time and date. Choose the name of the websites include the forums that you want to track and Comment Save is ready.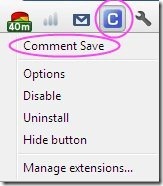 This free Chrome plugin is very easy to use and can be installed just like you install other extensions. This extension supports popular websites like CNN Facebook YouTube Google+ Digg and Twitter so there is nothing to worry about if you are a social networking lover. You can also use the timed deletion feature of comments that you want to remove after a specific time.
Features of Comment Save:
Track the history of your posts and comments in social networking websites
Set timed deletion for comments that you want to delete after a specific time
Use filters for websites that you don't want to track
Comment Save can be downloaded from Chrome Web Store. It's very small in size and works on a large number of websites. Try Comment Save Free