Compress PDF Files with Free PDF Compressor
Free PDF Compressor is a free PDF software that helps you to compress PDF files easily. you can reduce the sizes of PDF files by compressing them. If you want to reduce the sizes of your PDF files without any compromise with the quality Free PDF Compressor is the best option for you.
If you have a large collection of PDF book you can now reduce their size and store them in your hard disk easily with this free PDF compressor. And there is nothing to worry about as you are not going to lose the quality of your files when converting them. This freeware can compress documents 30-60% better than the rest of the PDF compressors out there. It can also detect duplicate PDF objects and remove them. Moreover you can set the compression level when compressing PDF files to make sure you get the same quality.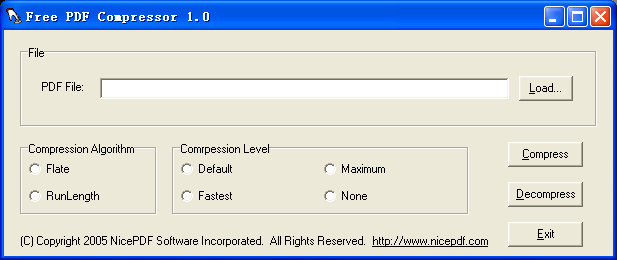 As compressing PDF files is the only work of this freeware it's really easy to use. This free PDF compressing software comes with a simple interface where you will find a few buttons for compressing decompressing and selecting PDF files. You will find two different compression algorithms for compressing PDF and four compression levels. RunLength algorithm is faster than Flate algorithm so you can try RunLength when compressing documents.
Features of Free PDF Compressor:
Compress PDF file and reduce its size
Two different compression algorithms
Easy-to-use user interface
Free PDF Compressor is available for download at NicePDF's official website. It's only 288KB in size and supports Windows starting from Windows 95. Try Free PDF Compressor Free