Improve Your Typing Skills with Rapid Typing Tutor
Rapid Typing Tutor is a free typing software that can help you to improve your typing skills. If you want to type at lightning speed like a pro and want to do it without looking at the keyboard Rapid Typing Tutor is what you are looking for.
This free typing tutor is specially designed for those people who want to learn how to type without looking at the keyboard. This freeware presents keyboard training in a fun and entertaining way. Both kids and adults can use this tool for improving their typing skills by trying the fun and easy lessons provided in this free typing tutor. You can also use this freeware as a game when you have some free time to kill as there is some built-in games inside this freeware.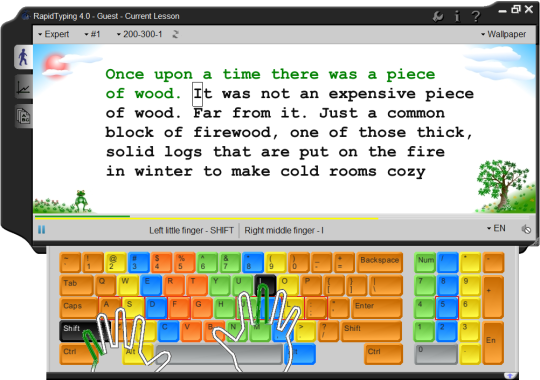 This freeware comes with a lot of colorful attractive themes and avatars for presenting the typing lessons in a game like environment. You can easily evaluate your typing performance by looking at the charts provided by this freeware. This free typing tutor software will monitor your progress and you can check the results whenever you want. You can check your typing accuracy and speed in the results and you will always get a summary at the end of every lesson you try. And you get to enjoy all these features for free.
Features of Rapid Typing Tutor:
Improve your typing speed in a fun and entertaining way
Attractive built-in games for improving typing skills
Evaluate your typing performance by your typing accuracy and speed
Rapid Typing Tutor is available for download at Rapid Typing's official website. It's only 5.75MB in size and supports Windows 7 Vista XP and 2000. Try Rapid Typing Tutor Free