Convert Image Sizes With Moo0 ImageSizer
Moo0 ImageSizer is a free image resizing tool that helps you to shape images easily into different sizes. You just have to drag and drop the images you want to resize and leave the rest to this free image resizer. Let's see what this freeware has to offer.
Resizing images is not really a difficult task but it can easily get boring as you might have to do repetitive task to get your image to the right size. So if you want a quick and easy way to get your job done perfectly Moo0 ImageSizer is what you are looking for. You can quickly resize your images in specified sizes and convert multiple images into various sizes at the same time and save them in a folder. Once you are done choosing your right image you can delete the rest of the images by deleting the folder.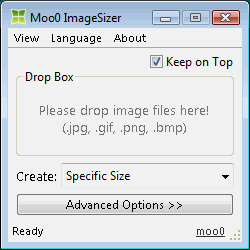 You will find two different modes inside this free image resizing tool one with a minimized view and the other with advanced options. There are two different image resizing modes available inside this freeware resizing images in specific size or trying various sizes at once. You can both enlarge and shrink images using this free image resizer. You can set the image width height or tell this freeware to keep the original width/height.
Features of Moo0 ImageSizer:
Resize images quickly and easily
Two different modes for resizing images
Simple easy-to-use
Moo0 ImageSizer is available for download at Moo0's official website. It's only 3.16MB in size and supports Windows XP or higher. Try Moo0 ImageSizer Free