Transfer Your Documents Easily With aiFiLE
aiFiLE is a free file management software that can help you to manage a large number of documents or other files easily. This freeware is specially designed for Windows system and can provide you a great file management experience. Let's see if this freeware has all the features that you expect to see in a free file management software.
It is possible to increase our productivity easily if we can manage and organize all our documents smartly. That's where aiFiLE comes in. You can transfer a large number of documents to your preferred location in just a few seconds. This free document organizer can organize about 1000 documents in just complete 18 seconds. You can organize your files by time type or date. You can also schedule these works which is another great feature of this freeware.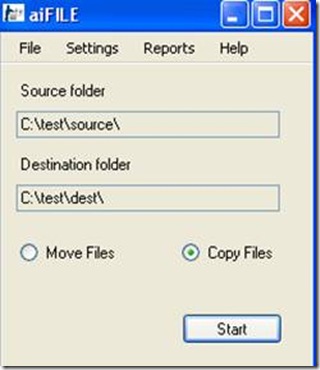 This freeware comes with a professional user-friendly interface. You can arrange your documents by type date and time and also keep track of them using the auditing capability of this free file management utility. Once you start using this freeware you can easily remember when you received a document. You just have to choose the source folder and the destination folder to start managing your documents. It's really as easy as it sounds.
Features of aiFiLE:
Transfer a large number of documents in just a few seconds
Uses very little resource while running
Easy-to-use user-friendly interface
aiFiLE is available for download at Techno Peers website. It's only 478KB in size and supports Windows XP Vista and 7. Try aiFiLE Free