fTalk: Free Facebook Chat Client
fTalk is a free instant messenger that allows you to chat with your Facebook friends from your desktop. You will find a list of friends who are online on Facebook at that moment and you will also receive notification when a Facebook friend is available to chat. Let's see what this freeware has to offer.
All most all our online and offline friends are available on Facebook and it has more members comparing to all other social networking site out there. Facebook comes with a lot of features and the chat feature is one of them. But if you want to enjoy this chatting feature without opening your internet browser fTalk is the best option for you. You can start chatting with your Facebook friends easily right from your desktop once you log into your Facebook account using this free Facebook software.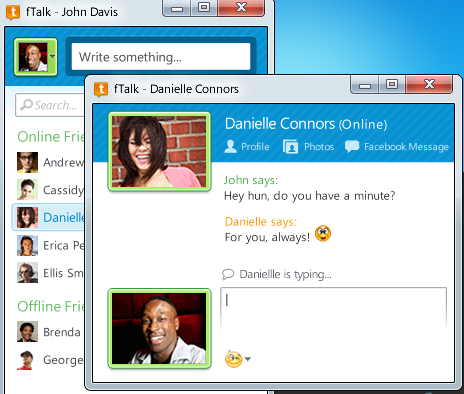 This free Facebook chat client comes with a sleek attractive interface. You will find lists of offline and online friend inside this freeware. If your friend list is big you can search for the friend you want. You can also quickly go to your friend's profile page and see his profile image from this freeware. There is also option for disabling tray notifications and chat sound if you want. There is no help file available inside this freeware but it is not important.
Features of fTalk:
Chat with your Facebook friends' right from your desktop
Receive notification when a friend comes online
Sleek attractive user interface
fTalk is available for download at fTalk's official website. It's only 7.23MB in size and supports Windows 98 or higher. Try fTalk Free