Create a New Site in Windows Server 2008
Any organization that is scattered around the globe definitely has connectivity between head office and branch offices. Even if the entire organization belongs to a single domain interconnection between the domain controllers and client computers still depends upon the speed of the media that is used to connect them. For example one domain controller and some clients of the organization might be located at one location where as an additional domain controller for the forest root domain controller can be located at entirely different location which might also be geographically apart. When this is the case administrators are required to build sites for the domain and locate the computers in their respective sites in order to manage replication process efficiently. As a systems administrator in such organization if you want to create a new site you are required to follow the steps given below:
1.       Logon to Windows server 2008 domain controller computer with domain admin account.
2.       From Administrative Tools on start menu go to Active Directory Sites and Services to open the snap-in.
3.       On the opened window right click on Sites and from the available menu go to New.
4.       From the appeared submenu click on the only available option named Site.
5.       On New Object – Site box specify the name of new site in Name text box and click on DEFAULTIPLINK (for now).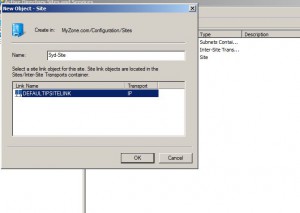 6.       Click on Ok button and Ok button again on the appeared box to create a new site.