Create and Link Subnets in Windows Server 2008
In a complex network setup where there are multiple sites available for domain controllers located at different geographical locations it becomes essential for the administrators to enforce client computers to authenticate domain user accounts from the domain controller available at their respective locations. In order to do so administrators need to create subnets which then allow the clients to locate and request for the authentication from the domain controllers within the local subnets. This configuration saves a decent amount of network bandwidth especially when two different sites are connected via slow WAN link. As an administrator in such organization if you want to create subnets and link them to their respective sites you are required to follow the steps given below:
1.       Make sure that you use Enterprise Admin account to logon to Windows server 2008 domain controller.
2.       Open Active Directory Sites and Services snap-in by going to Administrative Tools.
3.       On the opened snap-in right click on Subnets and from the available menu click on New Subnet.
4.       On New Object – Subnet box in Prefix text box provide the network address of the range assigned to that particular site. You are also required to provide CIDR notation to specify the subnet mask of the given network address.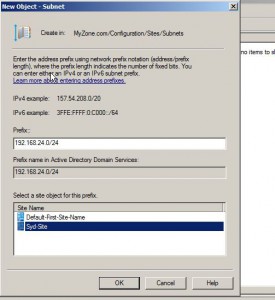 5.       Once given select the appropriate site name from the available list of sites and click on Ok button to create and link the subnet to the specific site.