Create New Site Link for Replication in Windows Server 2008
When a network infrastructure is expanded and scattered around the globe and multiple sites are created to manage them replication plays an important role in the setup. With the help of replication all the domain controllers in every site are capable of exchanging information in order to provide consistent data worldwide. If there are multiple sites configured in the domain environment intersite replication takes place through DEFAULTIPSITELINK. This replication configuration creates a kind of mesh topology and in some conditions may consume additional network bandwidth. In order to utilize the bandwidth efficiently administrators can create intersite replication links which are used during these replications between the mentioned sites only. As an administrator if you want to do so you are required to follow the steps given below:
1.       Logon to Windows server 2008 domain controller with Enterprise Admin credentials.
2.       Go to Active Directory Sites and Services by going to Administrative Tools.
3.       On the opened snap-in expand Sites tree and then expand Inter-Site Transports.
4.       Right click on IP and from the available menu click on New Site Link.
5.       On New Object – Site Link box specify the name of the link in Name text box and from the left bar below click on the name of the sites and click on Add button for each of them to configure replication link.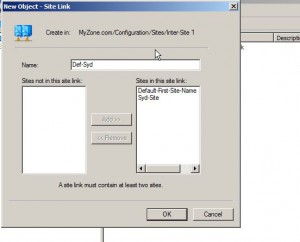 6.       Once done click on Ok button to create the link.