Enable Universal Group Membership Caching in Windows Server 2008
When a network infrastructure is scattered around the globe and multiple sites created for better manageability many administrators promote domain controllers on the local sites as Global Catalogue servers in order to avoid the consumption of additional network bandwidth which is consumed when there is one Global Catalogue server and all the queries are sent to it irrespective of its geographical location. In some cases this practice works perfectly fine as Global Catalogue servers contain partial information of the objects and consume minimal amount of bandwidth while replicating with each other. However when Active Directory database contains huge number of objects replication between Global Catalogue servers may also consume a decent amount of bandwidth. To avoid this situation Universal Group Membership Caching is enabled which helps the caching of partial information of objects in universal groups on local sites. This ensures that every query that is resolved from the Global Catalogue server situated at distant location is cached on the local site. As an administrator if you want to enable Universal Group Membership Caching you need to follow the steps given below:
1.       Make sure that you are logged on to the domain controller with Enterprise Admin credentials.
2.       Go to Active Directory Sites and Services snap-in by going to Administrative Tools.
3.       Expand Sites tree and click on the name of the site on which you want to enable Universal Group Membership Caching from the left pane and from the right pane right click on NTDS Site Settings.
4.       From the available menu click on Properties and on Site Settings tab check Enable Universal Group Membership Caching checkbox.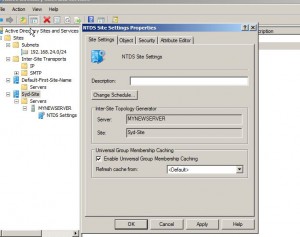 5.       Finally click on Ok button to make the changes permanent.