Customize Windows XP with nLite 1.4.9.1
nLite is a freeware tool which is in the market since quite a long time and is useful for both home users and IT professionals. With the help of this small application the administrators and home users can create bootable disk images of their favorite operating systems. They can also integrate latest service packs driver packs languages and other applications within the installation setup so that they may get installed along with the operating system. Moreover advanced users can also use nLite to automate the entire installation process of the operating system. This software can also be used to burn any bootable ISO image to a writable media.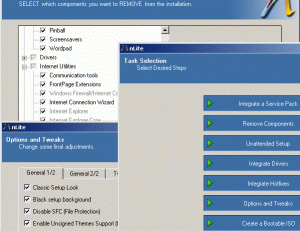 Pros
The file size is small and is easily available from the official website of the application.
Easy to understand user interface which enables IT professionals exploit the application at its full.
Offers several options while creating any bootable or non-bootable media from which users can choose the appropriate settings as per the requirements.
Cons
Since the application uses technical terms sometimes new users might find it challenging.
nLite is only compatible with windows XP or below operating systems. For the operating systems which are built on Windows Vista architecture vLite can be used in place of nLite.
Download Link: http://www.nliteos.com/download.html