Disk SpeedUp: Free Disk Defrag Tool
Disk SpeedUp is a free system utility that helps you to optimize analyze and defrag your hard disks easily. You can perform optimized disk defrag quickly and speed up your PC. If you are looking for a fast free disk defrag tool for your PC Disk SpeedUp is the best option for you.
It is not possible to avoid data fragments in your hard disks if you install and uninstall programs or download delete and save files every now and then. And these data defragments slow your PC and creates problem like system errors hang ups and blue screens. There is a default Windows defragmenter for handling it but Disk SpeedUp can solve it more efficiently. You will be able to fix small defragment problems with just a few clicks and optimize your hard disk for better performance.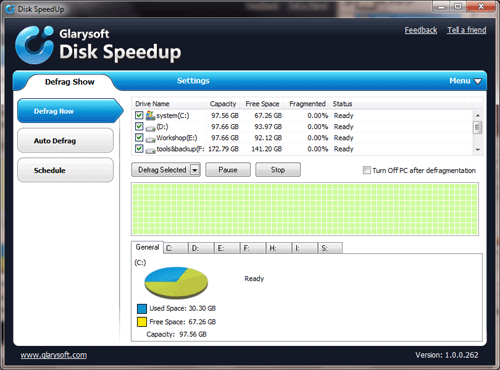 This free disk defragmenter is very easy to use and comes with a user friendly interface. The interface is very colorful large and comes with clean big buttons to make things easy for the users. You can choose Auto Defrag option Defrag Now or schedule options from the main window. There is also option for pausing and stopping the defragmentation operation if you want. There is no help file included with the free system utility but you will find some necessary information on the developer's website.
Features of Disk SpeedUp:
Enjoy fast and optimized disk defrag
Supports NTFS NTFS5 FAT FAT16 FAT32 and NTFS + EFS file systems
Automatic intelligent defrag system
Small lightweight and comes with user-friendly interface
Disk SpeedUp is available for download at GlarySoft's official website. It's only 2.17MB in size and supports almost all the versions of Windows starting from Windows 98. Try Disk SpeedUp Free