Don't Buy Physical CD/DVD Drives, Use DaemonTools Lite 4.40.2 Instead
DaemonTools Lite 4.40.2 is a freeware imaging tool that is capable of creating and mounting the images of various file formats. The application indeed eliminates the requirement of any additional physical CD/DVD drives because of the versatility in its nature. Many games that require physical CD/DVD ROM to the inserted in the drive can be played by creating the images of the media and mounting them on to the virtual drives which are automatically created when the application is installed on a computer. Not only this DaemonTools Lite 4.40.2 also supports various image file formats which enables the application to read and extract information from almost every image type.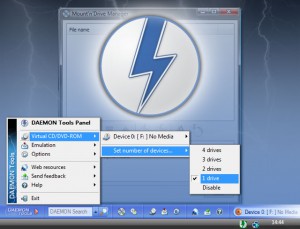 Pros
The software can create up to 4 virtual CD/DVD drives and therefore allows users to work with up to 4 images at a single given time.
DaemonTools Lite 4.40.2 is capable of creating .iso and .mds images from any CD/DVD or folder from the local computer system.
The application can also be managed using command line interface which further means that tasks can be automated easily.
DaemonTools Lite 4.40.2 supports .nrg and .cue file formats as well. This feature is not available with many of these types of applications.
Cons
No cons are experienced or reported while using DaemonTools Lite 4.40.2 till date.
Download Link: http://disc-tools.com/request?p=85ddf627274f19591ab21c3fa694ff02/DTLite4402-0131.exe