View Running Process Clearly with Process Explorer v14.1
Process Explorer v14.1 is a freeware application and is unique in its own way. The software displays the information about all the opened DLL files and handles while any process is running by tightly integrating itself with Windows. Process Explorer displays the real-time information and is also capable of creating reports of any desired process. This application is mostly liked by the engineers and troubleshooters as they can easily locate the file or handles which are responsible for the failure of any application that is running on the computer. The main interface is easily readable because the window is categorized into parts. The first part displays the processes which are running and the second part displays the detailed information according to the mode of Process Explorer.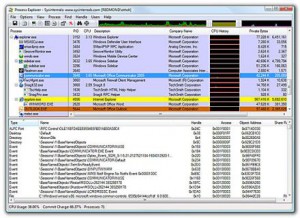 Pros
The application can be used by both full-fledged engineers and the students who are still in learning phase.
Detailed information of every process can be viewed in easy to understand language and interface with the help of this application.
Diagnosing any problem in an application is much easier with the help of Process Explorer.
Cons
Although the interface and the language used in the application is simple enough however users still need to have appropriate understanding of the processes in order to exploit Project Explorer v14.1 at its full.
Download Link: http://technet.microsoft.com/en-us/sysinternals/bb896653