DVD Ripping Software For Free!
If you are looking for DVD ripping software that doesn't really means you're a pirate and as long as you're using it for domestic purposes such as archiving your original DVDs to some external USB drive for easier retrieval and playing stay assured that you're not breaking any law known to mankind! I hope this takes care of your copyright infringement frights (I know the MPAA and RIAA together with their actions can be really scary but you should be cool for now) because we're going to talk about a DVD ripping software for Windows right away...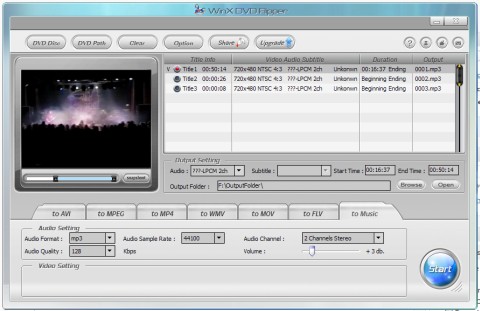 ... and WinX DVD Ripper is my choice. Why? Well... why not I ask you! The latest version is labeled 4.1.1 and it will only need 20.7MB of your hard drive's space... and a lot more than that to rip those DVDs of yours of course!
Before moving on here's a little funny note - a few moments ago I just fired up WinX DVD Ripper but I also had PowerDVD running although the video DVD I've been watching was now on pause. Guess what? Kernel error! Fortunately it was possible to easily close both applications so now we'll try again...
Hmmm seems to be something wrong with the program's updater but since I can easily close that error message and move on let's rip a video DVD shall we? (just for the record - I'll be ripping the video disc that came as a bonus with the limited edition of Death's "The Sound of Perseverance" album reissued in 2005)
Choosing the format to rip the DVD to isn't extremely hard since available settings are only 7 - AVi MPEG MP4 WMV MOV FLV and audio (appearing as "Music" in the menu but what if I want to rip the sound of a tutorials DVD for example?) so getting started with it should be pretty easy.
Now I am watching the progress bar in the status window and I can tell you the following - I am ripping video to a FLV file and I have a 54 FPS ripping/encoding speed which isn't bad at all if you ask me but what I really don't like is to see that this program only seems to use the second core of my CPU. Come on guys we're in 2009 dual core processors are ubiquitous optimize that code a little will ya?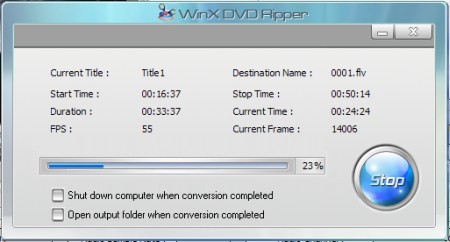 Looking at WinX DVD Ripper I see a very good looking interface that's pretty easy to use and shouldn't put a wall of despair in front of those who just got their hands on a Windows computer as it happens with other programs from this category but I also see a piece of DVD ripping software that leaves room for a lot of improvements. I know I know - there's also a paid version of this program but I have no idea how far does that one go (they should fix that "Process Finish!" message anyway). Maybe I'll get a license from Digiarty Software and give it a try some day in the future who knows...
... but now I'll stop here since my FLV rip just came out and I have to enjoy it. Rock on!!! >:)