Free File Transfer Software Of The Day
I don't know about you but I always had a really hard time trying to send files to people. Sure it's really easy to upload the pictures from last week's party to RapidShare and even creating a password protected archive to share on DC++ ain't that hard to do but there's always someone who seems to have problems downloading them. Luckily for them I found Streamfile and solved that lame "I don't know how to use RapidShare" problem once and for all but if you're still into some serious file transfers...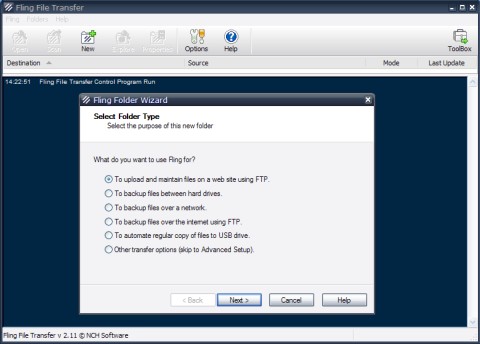 ... then let me introduce you a new piece of code I just bumped into namely Fling! More than just being another piece of file transfer software for Windows Fling also comes with a bunch of scheduling/remote backup features as well as a full set of capabilities you'd usually encounter in a classic FTP client.
Since telling you simply about the features won't be really interesting let's quickly go through my first encounter with Fling and this starts right after setting up the program facing the Fling Folder Wizard that jumps right up when you run the file transfer tool for the first time...
In this screen you get to see all the tasks that can be accomplished by Fling but since I can't decide what I want to do at this time I choose to skip to Advanced Setup and then press Next...
...but there's nothing special here apart from the FTP settings and scan/update options for those who will use Fling to backup stuff. Backup? Sure and if backup to a FTP server is not enough you can even use this program to backup files between hard drives or automate regular copy operations to USB drives!
Considering the fact that everything here seems to be pushed forward by a wizard-style interface I think that even my mother could use this program although she may need some help from her only son to setup the FTP connection properly... ;)
I know I know - I didn't get into the details about how this program actually works but after playing with some backup/transfer tasks for myself all I can say is this: stop reading about file transfer software and start using it! The closest free file transfer software for Windows is only a click away so get to it! (Once again I have to apologize to those using Macs and Linux-based PCs... don't worry your time is gonna come!)