Edit or Record Audio Files with Advanced Sound Recorder v6.0
Advanced Sound Recorder is a shareware application which is used to record sounds from any media. Users can record voices from microphones Internet streaming media sites like YouTube sounds generated by system's internal processes etc. The quality of the sound can be configured according to the requirements. This means that users can also configure the application to record and store the sounds exactly the way they are heard. Display bar of the application displays the specifications of the audio file which is being recorded or played. Moreover any recorded file can be edited or modified easily with the help of Advanced Sound Recorder. The application can be used to create or modify ring tones for mobile lovers as well.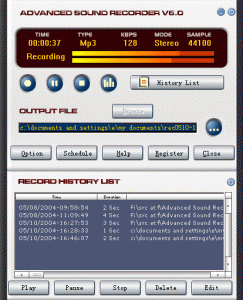 Pros
Trial version of the application can be downloaded within no time because of the concise size of the installation file.
The software provides user interface which is easy to understand and work with.
Since the application is precisely developed for sound recording purposes the efficiency it provides is indeed incomparable.
Cons
Although the interface provided by the application is very user friendly users still need to have basic understanding of music files and appropriate knowledge to modify any desired audio file with the help of Advanced Sound Recorder v6.0.
Download Link: http://www.soundrecorder.net/asrsetup.exe