Monitor and Analyze Network Infrastructure with Ethereal
Ethereal is a freeware protocol analyzer utility which is mostly used by networks and systems administrators. The application is capable of capturing packets from the transmission media and displaying the protocols and other important information in easy to understand language. The software can be used to monitor network traffic on regular basis and can also be used to identify if because of any weird reason the network starts behaving obnoxiously. Ethereal can capture packets from the entire enterprise network hence allowing administrators to monitor the complete infrastructure right from the Central location. However administrators need to have proper knowledge about the application and the protocols as well.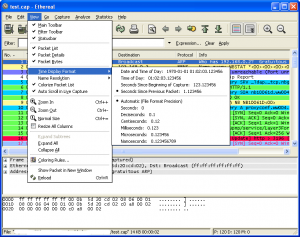 Pros
Ethereal can be downloaded for free and the installation process is quite straightforward.
Multiple versions of software are developed which can be used in multiplatform network infrastructure.
Training documents and tutorials are also available for the application which can be found easily on the Internet.
Because Ethereal is not much resource intensive application it does not consume network bandwidth hence allowing the network infrastructure to run without any hindrance.
Cons
Since Ethereal captures packets from the network infrastructure and it does its job quite efficiently the software can also be used for unethical purposes such as hacking.
Download Link: http://www.ethereal.com/distribution/win32/ethereal-setup-0.99.0.exe