Edit Your Images Online with Picnik
Picnik is a free online image editor that helps you to edit images online with just a single click. You add tons of special effects frames or texts on your photos without any registration. You can also fix your photo crop rotate it online and all these can be done for free!
You don't have to be a professional photo editor or a regular computer user to use this free online photo editor. You can easily add a touch of creativity in your photos without any effort. There are lots of attractive frames shapes and effects there that can be added on a photo. You can also add texts on them as they also have a lot of fonts. Once you are done editing you can share it with your friends via Flickr Facebook or Picasa.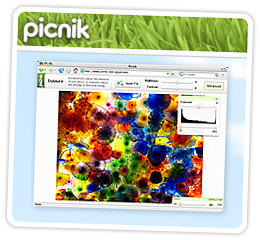 The user-interface of this free online photo editor is quite user friendly. Everyone including people without any experience of using a photo editing tool will find it very easy to use. People with slow internet connection can also think about trying this attractive free photo editor as it loads at a lightning speed. The loading screen is also attractive.
Instructions for Using Picnik:
At first go to the homepage. You will a button "Get Started" on the middle of the page. Just click on it to start editing images. You have to upload a photo at the first step. You can choose a photo from your Facebook Flickr or Picasa account or you can upload it from your PC.
On the next step you can let this free image editor edit your image or you can edit the colors and exposure manually. You can also fix red-eye problems and sharpness there. You can resize crop and rotate your image and click on "Create" after you are done editing.
You can add effects fonts stickers frames and other premium things on your photo in this step. All the effects are nicely categorized so it won't be a problem to find the preferred effect there. Just add the preferred effect frame shape or text and you are ready to save your image.
You can save your picture on your PC or you can directly share with your friends via Facebook MySpace Twitter and Flickr. You can choose the quality and the format of the picture manually.
Try Picnik