Enable File and Printer Sharing in Windows Server 2008
In order to make Windows server 2008 more advanced and secure Microsoft has separated Network Discovery File Sharing and Printer Sharing services into three individual entities. This means that when only Network Discovery is turned on in Windows server 2008 the computer will only be discoverable on the network and will not be accessible by any other computer by any means. Furthermore when only File Sharing service is enabled then only sharing features for folders can be configured on the computer and can be accessed through remote machines. In order to share printer on the network Printer Sharing services are required to be enabled. As an administrator of Windows server 2008 computer if you want to share files and folders available on the machine and share the printer you need to follow the steps given below:
1.       Make sure that you are logged on to Windows server 2008 computer with administrator privileges.
2.       Click on Start button and from the available menu go to Control Panel.
3.       In the Control Panel window double-click on Network and Sharing Centre to open it and under Sharing and Discovery section click on Off text opposite to File Sharing.
4.       From the expanded options click on Turn on file sharing radio button and hit Apply button.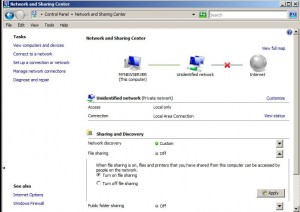 5.       Click on Off text opposite to Printer sharing and from the expanded options click on Turn on printer sharing radio button.
6.       Click on Apply button to save the changes you have made.