How to Enable/Disable User Account Control in Windows Server 2008
User Account Control is yet another feature which was introduced with the release of Microsoft Windows Vista and Windows server 2008. This feature allows even administrators can use the access token that has standard user privileges and whenever elevated privileges are required the computer displays a prompt for consent on which users can click on Yes button to continue. This configuration makes Windows server 2008 highly secured but might sometimes be annoying for the administrators in small to medium scale industries. In such cases administrators may want to disable this feature and the entire process requires some Group Policy editing. However Windows server 2008 also offers single click enable/disable option for User Account Control and as an administrator if you want to do so you need to follow the steps given as below:
1.       Logon to Windows server 2008 with the account holding administrator's crown.
2.       Click on Start button and from the menu go to Control Panel.
3.       On the opened window click on User Accounts.
4.       On the opened page click on Turn User Account Control on or off link.
5.       On the appeared window uncheck Use User Account Control (UAC) to help protect your computer checkbox and click on Ok button.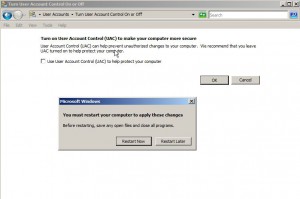 6.       On the appeared box click on Restart Now button to restart the computer to allow changes to take effect.