Modify Site Replication Schedule in Windows Server 2008
During the configuration of any domain environment network management can only be efficiently handled when the replication schedule is properly managed. By default every site which uses DEFAULTIPSITELINK for replication is scheduled to replicate information every hour. Even when the different site links are created the default schedule for application remains the same. Administrators may however want to modify the replication schedule between the sites in order to exploit the network bandwidth at its full and get best results at the same time. As an administrator in any such network infrastructure if you want to modify the default site replication schedule and customize it according to the requirements of the organization you need to follow the steps given below:
1.       Use Enterprise Admin account logon to the domain controller running on Windows server 2008.
2.       Open Active Directory Sites and Services snap-in by going to Administrative Tools.
3.       Expand Sites tree and click on the name of the site for which you want to modify replication schedule.
4.       From the right pane right click on NTDS Site Settings and from the available menu click on Properties.
5.       On the opened box click on Change Schedule on Site Settings tab and on Schedule for NTDS Site Settings box make appropriate adjustments as per the requirements.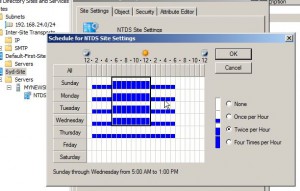 6.       Once done click on Ok button to save the changes and back on properties page click on Ok button again.