Enjoy Music and Videos with RealPlayer 14.0.3.647
RealPlayer although has few other flavors available for the users however basic version of RealPlayer 14.0.3.647 works perfectly for movies and music lovers. The software supports almost all common file formats and therefore can be considered as an all in one media player. Also RealPlayer can communicate with Internet and therefore users can get access to thousands of on-line radio stations which they can enjoy round-the-clock. Basic version of RealPlayer also includes audio CD burning feature which allows users to create audio CDs of their favorite songs. Moreover RealPlayer is also capable of playing flash videos. This feature is not available with every media player available in the market.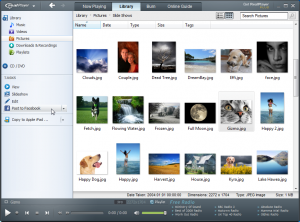 Pros
RealPlayer automatically associates itself with its supported file types and therefore it becomes the default media player as soon as it is installed.
Because of the direct access to the Internet and radio stations users can enjoy unlimited and unrestricted music irrespective of the availability of the files in their local hard disks.
With the help of RealPlayer users can manage their own Jukebox libraries from which they can choose audios and videos as per their moods.
Cons
Direct download feature is not available with RealPlayer which can be a bit disappointing for music and video collectors.
Download Link: http://client-software.real.com/free/windows/installer/stubinst/stub/rp14/R61APD/RealPlayer.exe