Enjoy Music with Foobar2000 v1.1.7 Beta 1
Foobar2000 v1.1.7 beta 1 is yet another audio media player that offers complete versatile solution for music lovers. The application is a freeware and can be downloaded either from the official website for from the link given at the bottom of this section. The software is capable of playing almost every file format as far as it is an audio file and can be installed on any operating system. Foobar2000 offers fully customizable keyboard shortcuts which allow users to work with the application smoothly and quickly. Foobar2000 is also capable of ripping audio CDs and that too without losing sound quality. Moreover users can also configure the application so that it can play all the audio tracks without gaps.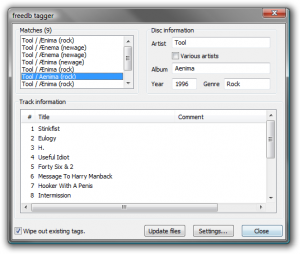 Pros
The application is capable of supporting MP3 MP4 WAV AAC AIFF WMA FLAC AU and several other file formats hence allowing users to use Foobar2000 as a primary audio media player on their computers.
Users can adjust UI of the application as per their comforts as the software provides a complete customizable user interface.
Since the application is open source the developers can add and extend several other functionalities to the software.
Cons
Although Foobar2000 offers a complete versatile solution is only limited to audio files.
Download Link: http://www.foobar2000.org/files/6442df2c0fb63d821dcff99972bfada2/foobar2000_v1.1.7_beta_1.exe