Find Applications for File Extensions Easily with File Extension Lookup Desktop Gadget
File Extension Lookup Desktop Gadget is a freeware application that is released by www.fileinfo.com. The application is a desktop Gadget that can be installed in Windows 7 to help users find and locate the appropriate application using which a file of unknown extension can be opened. This gadget helps users save their lot of time which they otherwise spend on Google to hunt for the application to open any unrecognized file. The application can easily be downloaded from the official website and gets tightly integrated with Windows based operating systems. Since the gadget is directly linked to the website all the extension types which are available and recognized by the site are automatically reflected to the gadget. Therefore it can be said that as soon as any new file extension is registered with the site users can easily find them with the help of this lookup gadget.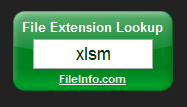 Pros
Automatically updates itself as the site updates and therefore synchronization is not a major concern.
Saves a lot of time of users by providing easy to use interface and that too right on the desktop.
Cons
As the application is designed for Windows desktop and gets tightly integrated with it whenever users want to locate any file extension the gadget automatically opens the page in Internet Explorer.
Download Link: http://www.fileinfo.com/