Experience High Quality Sound with DFX for Winamp
DFX for Winamp is in the market since quite a while. The application is shareware and its trial version is easily available on fxsound's official website. The tool is a small plug-in which gets integrated with Winamp and gets initiated whenever the player is started. DFX remarkably increases the audio quality and offers promising sound effects. Several sound effects can be configured using this plug-in and users can also create customized effects by using the equalizer provided in the main interface of the software. The best part is that users can experience the considerable difference while using the plug-in by powering it on and off when any audio file is played in Winamp.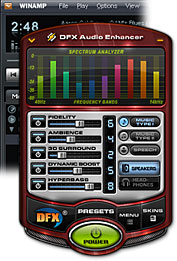 Pros
Offers several predefined sound effects that automatically adjust the graphical equalizer provided in the plug-in.
Users need not to initiate DFX plug-in every time they start Winamp as it starts automatically with the player.
The plug-in can be enabled or disabled as per the use and also it can be switched on or off right from the user interface.
Cons
Trial version of the application does not allow users to manage equalizer at its full. The remedy for this can be that users should purchase the full copy of the plug-in in order to exploit DFX for Winamp at its full.
Download Link: http://www.fxsound.com/dfx/pages/download/latest/download.php?vendor=11