Give New Look to Your Windows with WindowBlinds 7.2
WindowBlinds is a shareware application that can be used to customize the ambience of Microsoft-based operating systems. The software works on almost every version of Microsoft Windows and it gets tightly integrated with them. With the help of this application users can modify logon screens menus title bars etc. In order to modify the ambiance users can select predefined theme from the gallery or else they can even create their own by customizing any existing one. The interface of the application is quite simple and therefore users get familiar with the software easily and can use it as per their choices. The application is mostly for home users as they get bored by watching the same old boring background screens and consistent themes of Windows based operating systems. However the software might not be of much use in production environments because people in organizations do not care much about the ambience and the looks of user interfaces.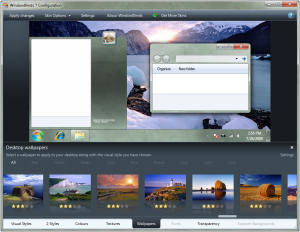 Pros
The application is easy to install and the trial version can be downloaded from the official website.
Offers easy-to-use interface which is quite beneficial for home users as they need not to undergo any training in order to use the application efficiently.
Cons
Since WindowBlinds is a software that is installed on the operating system users may experience delayed boot process as Windows initiates the software and apply its settings while booting.
Download Link: http://www.stardock.com/products/windowblinds/