Extract Files from Any Type of Archive with Universal Extractor
Universal Extractor is a free file compression utility that let you extract or decompress almost any archive easily. This free extraction tool can decompress or extract almost any archive or from any file type like its name suggests. If you are looking for a universal extractor for decompressing almost any archive format Universal Extractor is the best option for you.
You can decompress RAR or ZIP files EXE files application installers and archive that you haven't even heard of before. You won't be able to create any archive which means you won't be able to replace your archive utility including 7Zip or WinZip. But if you are looking for a simple universal and free extraction utility for decompressing any archive files Universal Extractor is what you are looking for. It can be a great addition to your app collection and can be very useful if you decompress various archive files every now and then.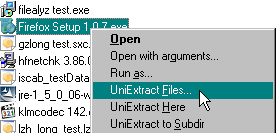 This free file extraction utility comes with an easy to use user interface with Edit Help and File menus. You just have to select the archive you want to extract select the folder where you want the extracted files to be stored and you are ready. If you want other details about the software or want to check the list of supported archives you can click on the Help button to go to program's website.
Features of Universal Extractor:
Extract any archive files easily without worrying about compression method source or file format
Simple easy-to-use user interface
Universal Extractor is available for download at Leg Room's official website. It's only 5.3MB in size and supports Windows starting from Windows 98. Try Universal Extractor Free