Fix Computer Problems with Computer MOT
Computer MOT is a free system utility that helps you to improve your PC's performance by fixing PC problems. You just have to run this freeware and Computer MOT will take care of the rest. If you want to protect your PC from spyware/adware and want to fix PC problems easily Computer MOT is the best option for you.
This free spyware removal tool is based on two most-popular free utilities people use to keep their PC clean Spybot and CCleaner. This freeware will do all the things your PC needs to avoid spyware and adware. You can scan for adware or spyware with Spybot and can remove unwanted files with CCleaner. Moreover you can defragment your hard disk and look for errors in the file system with Windows Defragmenter and Windows CheckDisk.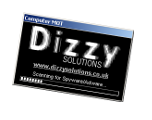 Compute MOT is portable and comes with easy-to-use user interface. Once the installation process is complete this free system cleaning utility will start working instantly. But the negative side of this freeware is it won't even ask you if you want to avoid using some tools or want to start the scanning later. And the only option to stop it is to run the Windows Task Manager and end process. There is no log or settings so there is no way to stop it.
Features of Computer MOT:
Protect your PC from spyware/adware
Remove unwanted files from your PC
Defragment file system
Check for errors in file system
Computer MOT is available for download at Dizzy Solutions official website. It's only 18.87MB in size and supports Windows 2003 and higher. Try Computer MOT Free