Mz Ultimate Cleaner: Free Junk File Cleaner
Mz Ultimate Cleaner is a free system utility that helps you to scan your hard disk for unnecessary files and clean them. This free file cleaning utility can scan for temporary files browsing histories junk files and other files that are taking a lot of space in your system and slowing down your PC.
This free cleaning utility comes with proprietary algorithm scans for quickly scanning your hard disks. It can scan your hard disk quickly and make sure your hard disk is clean securely and quickly. The scanning algorithm provided in this freeware is fast and can scan your entire PC in about 30 minutes. If you are experiencing crashes and slowdowns this free file cleaner can help you to get rid of them.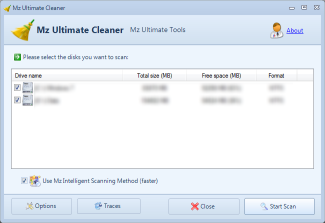 This free junk file cleaner comes with a simple easy-to-use user interface. There is no help file available in this freeware but you might not need one if you know what you are doing. This freeware won't change any registry entries or other system stuff like other cleaners so there is nothing to worry about. You can choose the Mz Intelligent Scanning method when scanning files but you can select other method if you want. Once the scanning is complete you can check the files you want to delete and start cleaning.
Features of Mz Ultimate Cleaner:
Delete unnecessary junk files from your PC
Clean your PC quickly with its fast scanning algorithm
Easy-to-use simple user interface
Mz Ultimate Cleaner is available for download at MzTweak's official website. It's only 1.17MB in size and supports Windows 2003 or higher. Try Mz Ultimate Cleaner Free