Top 5 Free Alarm Clock Software
Alarm Clocks are really helpful in making you remember your appointments meetings etc.  Most people forget their appointments as they can't keep track of time when using the internet and alarm clock software are made just to solve these problems. You can easily set an alarm using the software for any date/day/time and different alarm clock software use different techniques along with the traditional alarm tone to remind you of your appointments. I have reviewed some of the best free alarm clock software and here are the top-5.
5. Alarm Clock
If I had to name the simplest alarm clock software ever made I would have no hesitation in nominating Alarm Clock. Alarm Clock is a no-nonsense alarm clock software which provides you the option of setting an alarm for each day of the week. You can use a MP3 file as an alarm tone while you can also set snooze intervals. The simple interface makes it the best for novices. However the text-message displayed when the alarm triggers is 'hello' and can't be changed which is annoying and is the reason why this freeware features at no.5.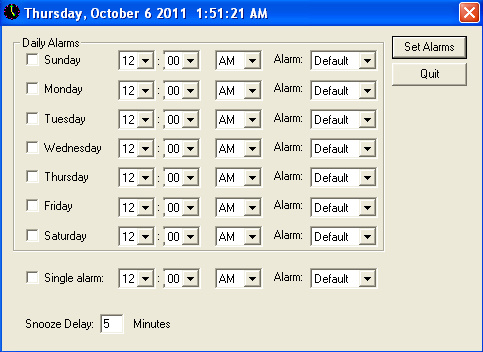 Try Alarm Clock
4. Free Alarm Clock
Free Alarm Clock is another simple yet efficient and cool alarm clock software. It has the most user friendly interface and the coolest buttons. Setting up an alarm is a breeze while you can easily setup daily alarms as well. You can choose whether you want to use the alarm to snooze loop open the monitor or wake the computer from sleep. It may lack some of the more high-end features but I don't think you would have the heart to uninstall it after having it installed it on your PC.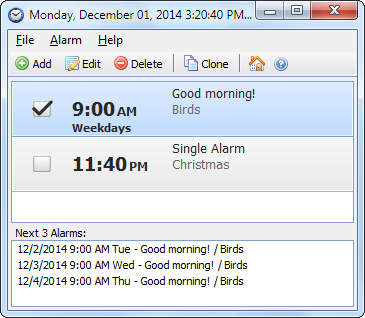 Try Free Alarm Clock
3. Cool Timer
Cool Timer remains one of my personal favorites and is the alarm clock software that I currently use. It has a bright colored display with 6 color options for buttons digits and background. You can use it in three modes- countdown stopwatch and wake. The best feature is its ability to show a text message in a window (which pops up on the screen) when the alarm sounds so that you can remember the reason you had set the alarm for. It lacks the more advanced features though and won't be a good choice for advanced users.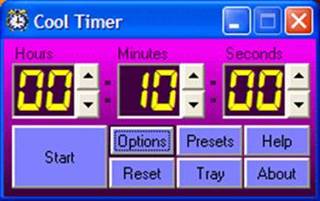 Try Cool Timer
2. Time Left
Time Left is one of the most popular and feature-rich alarm clock software. The best thing about Time Left is that it has a very simple and intuitive interface and setting up an alarm or a reminder is a breeze while it can also be used as a stop-watch. You can even set the countdown for an online auction with Time Left- a feature missing in some other alarm clock software. However you can't adjust the colors or the size of the clock which can be worrisome for some users which drops it down to no.2 in the list.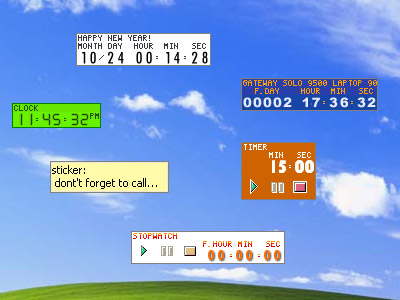 Try Time Left
1. Vector Clock Pro
Vector Clock Pro is a versatile and feature-packed alarm clock software. It offers a variety of options when setting up an alarm like 'one time alarms' 'daily alarms' 'monthly alarms' and 'online auction alarms' . The best thing about it is its re-sizable clock as you can adjust the shape and size of the clock easily while a wide variety of skins helps you in choosing a clock which matches with your desktop.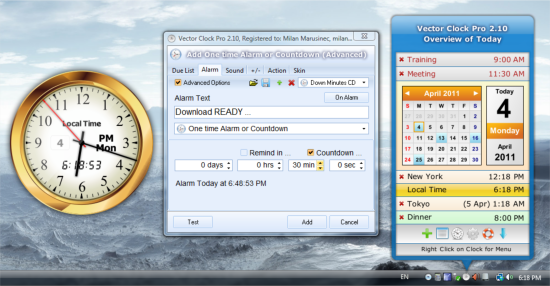 Try Vector Clock Pro
One that missed out: Multilingual Speaking Clock