Facebook Stickers - A new level of uselessness
This is epic. Seriously. It's called Facebook Stickers and it's a new bugfeature of the Facebook chat that a lot of people didn't get to use yet simply because it's very fresh. For now there are only two Facebook Stickers available the huge avatars being called Meep and Pusheen - check the image below for their looks. Unfortunately I have no idea about their lives. After all each of them should have a story right? The must be qualified to be on Facebook chat don't you think?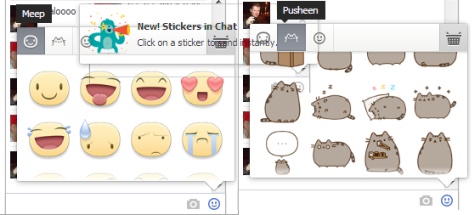 Facebook Stickers Meep and Pusheen... not! Seriously really I mean... come on wasn't there anything else left to be added to the world's largest greatest lamestmost awesome social network? OK OK let's keep it down. After all Facebook is not that bad in most cases it's the users that ruin it as it happens with a lot of online services - release the best product one can come up with then see it going down because you got more jerks and spammers inside that huge users database than you have ever expected.
Oh well I guess that's life but let me come up with a spooky idea - what if Facebook decides to add three more huge and useless avatars as "premium" content calling them Beep Flip and Bobix charging 1 USD for each of them? I am really terrified to think about it because that would lead to a gain of at least a few million bucks in just a few hours...