FileCrop: Search Engine for Shared Files
FileCrop is a free search engine service that helps you to search for shared files that are uploaded in popular file sharing websites including Rapidshare Megaupload and hotFile. You can search for a file you are looking for in your preferred file hosting website. You can also perform searches with file size limits by choosing a file size range.
There are many people out there who think it's difficult to look for a file online using Google or other similar search engines. Many people spend a lot of time in searching for files using these search engines and fail to find their desired file. If you are also among these people then this free search engine service for shared files is the best option for you. You will be able to search files that are uploaded in Megaupload Hotfile and Rapidshare.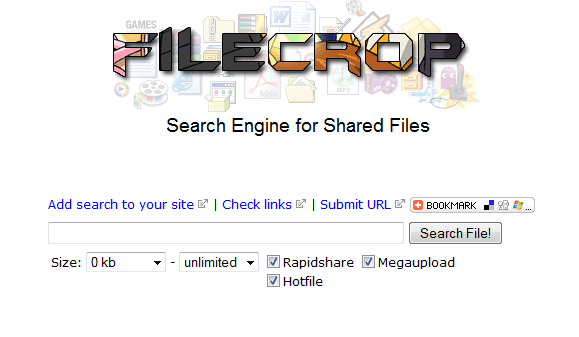 This shared files search engine is very easy to use and one can use it just like they use any other search engine. If you are looking for a file uploaded to Rapidshare you can check the Rapidshare box and uncheck the Megaupload and Hotfile box. Some of the uploaded files are deleted by these file sharing websites and you will be able to check links availability with FileCrop. You can also submit links if you want. You can also check the list of top 100 music chart directly in this website.
Features of FileCrop:
Search and download files shared in Rapidshare Megaupload and Hotfile
Check links availability
Submit links of uploaded files
Try FileCrop