Firefox 7 Performance & New Features
Firefox 7 is a complete disaster. I know it's harsh but I can't put it any other way - I ran that Peacekeeper browser benchmark at least 40 times since yesterday evening when I got my Firefox 6 updated to version 7 hoping that maybe there's something wrong with my hardware/software setup and the other browsers will also get lower scores than usual. Unfortunately... you can see the truth in the image below - Firefox 7 is slower than Firefox 6 not to mention the other problems I was expecting!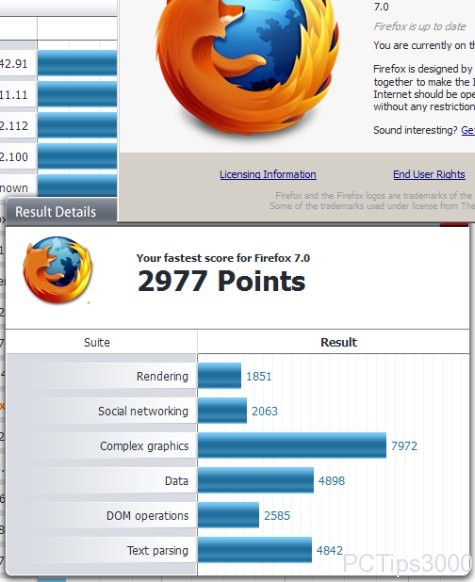 What other problems was I expecting from Firefox 7? Obviously lack of support for my not-so-old addons. Is it so bad? Oh yeah you can say it again!!! The worst part of it all is that the damn version 7 was out for public beta testing for quite a while so I just can't get it - why? Probably it's also the fault of those behind the addons but I can't imagine why Firefox doesn't support your old addons with each new MINOR update. Yes I wrote MINOR because we have to admit it - if you're moving from 6.x to 7.x but you lose speed and don't come with anything new it's nothing more but a lame excuse to a move that tries to bring you into the spotlight once again. Seriously.
Firefox 7 performance is a mess at least when it comes to speed so let's see what's new when it comes to features shall we? A lot of sources combined with my own observations conclude that Firefox 7 finally managed to reduce memory usage - in some scenarios memory usage is 50% lower than Firefox 6's but... speed and compatibility with your old addons are completely wrong.
Since I don't want to waste a single extra minute of your precious time here you have a link to the official release notes - click. If you don't have time/not in the mood to check it out I can only tell you this: if you kept using version 3.x after Firefox 4 came along stay with it but if you kept updating with each new version praying and hoping that Mozilla will get it right next time... maybe it's the moment when you have to admit that trying Opera/Chrome/Safari or Maxthon doesn't sound like a bad idea at all!
My dear Firefox may you rest in pieces! :<