Firefox Theme of the Week - Nautipolis for Firefox
This week is special - some say tomorrow is the end of our planet but they will just make fools of themselves once again. Sure if they're right... I guess they won't live to celebrate their accurate predictions haha! Well if we're supposed to spend only one more day online I think a Firefox theme that keeps it all short and simple while supporting virtually all versions of the browser currently in the wild and bringing shades of a glorious past to the present day is a pretty good choice so here's Nautipolis for Firefox ladies and gents!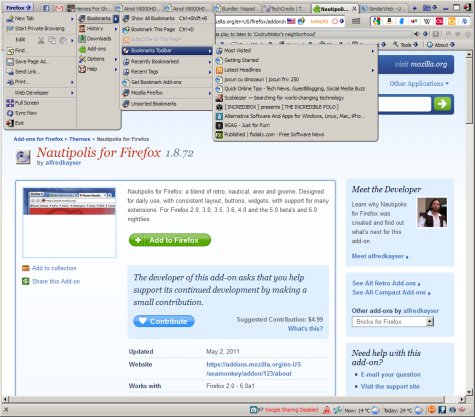 Updated on the 2nd of May Nautipolis for Firefox offers "a blend of retro nautical areo(!?!) and gnome" and support for a wide range of extensions with consistent layout buttons widgets. Fully compatible with Firefox 2.0 3.0 3.5 3.6 4.0 and even the 5.0 beta's and 6.0 nightlies Nautipolis for Firefox 1.8.72 currently has a rating of 4/5 stars after 54 user reviews and no less than 1214700 downloads. Freely available just as everyone expects a Firefox theme to be Nautipolis has a suggested contribution value of $4.99 - obviously this is optional (and surely welcomed by the author).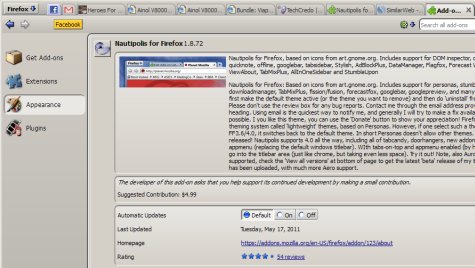 According to the description found in Firefox's add-on manager Nautipolis for Firefox is based on icons coming from art.gnome.org and supports personas StumbleUpon TabMixPlus Forecastfox GooglePreview and many others. Well... I guess not everything's perfect here (tried it with a persona didn't work didn't bother to try others) but if the end of the world is really coming this Saturday I wouldn't mind at all to spend my remaining time with Nautipolis for Firefox! Anyway I won't be at home during this weekend so I guess we'll meet again after the end of the world... as we know it. Bye - byeee! ;)