Firefox Theme of the Week - Royal Blue
I know that it may not be OK for some of you to face yet another blue Firefox theme but you have to believe me - I checked at least 10 various themes today and in the end the only one that deserves to be here as the theme of the week is Royal Blue. Maybe next week we'll have a green or yellow one but this week we have an excellent blue one so let's get to it shall we?
As I write this Royal Blue is hovering right above the 1.1.7 version label this update being done on the 18th of May. Also having an official home right here this Firefox theme works with Firefox 4.0 - 5.* and looks really good no matter if you love blue or not since its current rating is 5/5 stars after 13 user reviews and exactly 83339 downloads. The suggested contribution is $0.99 and...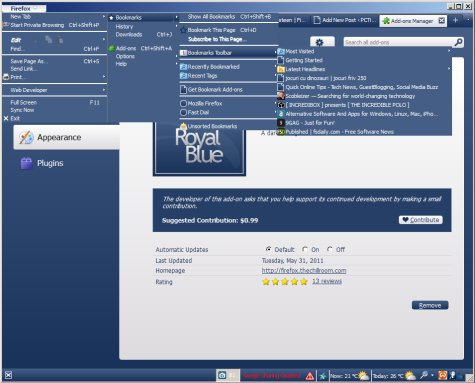 ... I think the images should say more than I'll ever be able to right? After all this Firefox theme gets everything so right that I could easily push it forward as the theme of the month without any second thoughts but I think that should be up to you - what do you think is Royal Blue cool enough to be the Firefox theme of the month or not? If the answer is negative which one's your favorite? That's all folks! ;)