Share Files and Folders Easily with Dropbox 1.0.28
Dropbox is a free application that can be used for online files and folders sharing. With the help of dropbox you can create an account which will be online and can upload all the files and folders that you want to share on your account. The application is quite user friendly and there is no overhead involved in installing and configuring the software. This is how it works:
Download the installer file from any free downloading site.
Install the application.
After the installation is complete you will get a Dropbox shortcut on your desktop which you can use to share files. Optionally you can invite other people from anywhere around the globe to access the Dropbox shared folder.
Once dropbox is installed on your computer you will be provided with 2 GB of free online space which you can use to store and share files. You can increase your space by inviting your friends and relatives to join Dropbox. A few pros and cons of software are listed below which will help you if you plan to download this free application.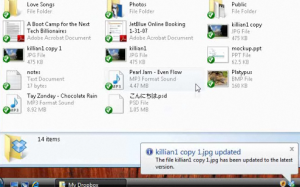 Pros
Online space that you are provided with is automatically increased as you invite people to join Dropbox.
Paid members of the application can enjoy up to 100 GB of online space.
Only the Dropbox shared folder is accessible from the Internet and therefore the security and privacy of your computer system remains intact.
Cons
Download Link: http://www.dropbox.com/