Free Image Hosting Service Of The Week
In the last few weeks I became more and more annoyed by the compatibility issues Pidgin and Yahoo's IM client have. While I don't care about video/audio communication (there's Skype for that) I would really like to be able to send and receive files without problems. In most cases it was about receiving images and since I got a few errors too many... today the time has come to talk about a new free image hosting service namely keapR.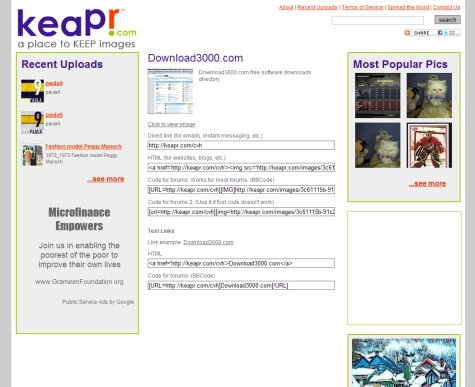 With keapR uploading images is as easy as it gets but that doesn't mean it's all a featureless process since you also get to name your image input a description and tags even choose to make it public or hidden! This service is completely free and next to the regular upload service it also offers Twitter upload. No need to tell you more about Twitter right? ;)
Once you uploaded your image using the regular upload mode you can get a direct link to it HTML code BBCode and standard code for forums as well as HTML and BBCode text links. Pretty cool especially since you don't need an account to get your images up & ready to be shared with other people!
I know I may have missed something... but I hope you'll find a few seconds to spare and drop a comment below to tell us about what you discovered. Thank you in advance and be sure to enjoy keapR! ;)