Rapidshare Alternative Of the Week - KingUploader
Time for a little RapidShare alternative don't you think? As it usually happens with stuff like this I'll try to be quick. After all you already know what you need if you arrived to this page so why wait? The name of the subject is KingUploader and it's my pleasure start this by telling you there's no catch with it - there are virtually no limitations!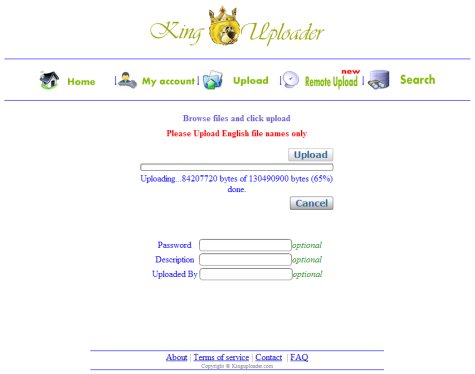 As it happens with most similar services KingUploader allows it users to create free accounts for managing files and having some extra features but going the free no account way is also good especially when you're in a hurry. The maximum file size is 150 MB and if you register you can put advertising code from Adsense adbrite and so on so when somebody downloads one of your files your own ads will be displayed.
Since I mentioned downloads let me add that the only annoyance is the waiting time when downloading files but download and upload speeds are virtually unlimited and your files will never be deleted as long as you're not messing with the wrong kind of content. These being said I will add another worthy bookmark to my RapidShare alternatives collection. I only hope you'll find KingUploader as useful as I do. Good luck! ;)