Free licence for Fix-It Utilities 10 Essentials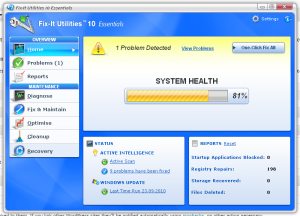 Fix-It Utilities is a great All-in-one program. You can use Fix-It Utilities to fix Windows problems check PC health status to speed up Windows to repair Windows registry create windows rescue CD and more. Â The main modules of Fix-it Utilities are:
- Â Diagnose. Here you can find Error Tracker(track and view Windows error messages) System Explorer Media Verifier and System Monitors (monitor system resources).
- Â Fix&Maintain: Registry fixer( detect and repair registry errors) Registry Editor( manually edit registry settings) Disk Fixer (detect and repair disk problems) System Scheduler( schedule Fix-It Utilities tasks) Windows Update and Clock Sync
- Â Optimise: System optimiser (improve system performance) Startup commander Registry Defrag Jet Drefrag( improve HDD performance) Internet speed Memory optimiser Windows Mods Windows optimiser.
- Â Cleanup: Temporary Files Cleaner Registry Cleaner Advanced File Cleaner Shredder.
- Recovery: File Undeleter Rescue Disk Disk Snapshot Emergency Manual and more.
To get your free licence of Fix-It Utilities 10 Essential go to this page and register with your personal data. On the next page you will receive your activation code. Also you will receive the activation code in your email account provided in the registration page. After that download Fix-It Utilities 10 Essentials and when asked enter your activation code.