Free Medical Dictionary for Medicos
Free Medical Dictionary is a very small application and is free to download and install on the computer system. The dictionary is mostly liked and used by medical professionals as it contains almost complete information related to medical field. When the dictionary is downloaded and installed it provides a clean and simple interface with a text box to enter the medical terms which professionals want to learn about. Free Medical Dictionary then communicates with the database server of the vendor and comes up with the results. Additionally the dictionary also provides the option of web search which can be used if vendor's database fails to provide appropriate results.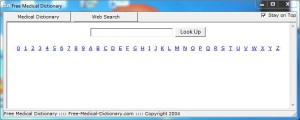 Pros
The software provides easy-to-use interface and therefore medical professionals need not to be technically skilled in order to use the dictionary.
Apart from search text box the dictionary also offers alphabetical search. This means that all numerical digits (0-9) and alphanumeric characters (A-Z) are available as links on the interface.
When Web Search button is pressed the application uses Google search engine to find the information of the typed term.
Whenever updates are available the dictionary automatically notifies the users about them.
Free Medical Dictionary contains the information of medical equipment and pharmaceutical drugs as well.
Cons
Free Medical Dictionary requires Internet connection to run.
Download Link: http://www.free-medical-dictionary.com/FMDv1.exe