Nimbuzz – An All-in-One Chat Messenger
Nimbuzz is a multi-domain supported messenger that allows users to log on using their chat IDs of any of the popular chat messengers right. The application supports Facebook ICQ Yahoo messenger Skype etc. In other words users need not to open any other chat messenger application if they use Nimbuzz as with the help of this application they can simply type the usernames and the passwords of any of their favorite chat messengers and they will be logged in as if they were using the original chat messenger offered by that very domain. The application is also capable of making voice calls which makes the software even more versatile.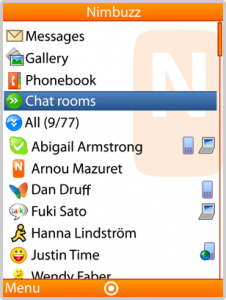 Pros
Nimbuzz is a freeware application and is easy to install.
Mobile version of Nimbuzz is also available which users can use to log on to their favorite chat messengers right from their mobile phones.
The interface of Nimbuzz is pretty straightforward and therefore users need not to struggle around to get familiar with the ambience of the application.
Because the application uses VoIP the audio quality that is produced while using Nimbuzz is incomparable.
Cons
As the application can be called as an all-in-one chat messenger no cons are experienced or reported while using Nimbuzz till date.
Download Link: http://get.nimbuzz.com/windows/