Free Multilingual Speaking Clock
Multilingual Speaking Clock is a freeware speaking clock application which is remarkably small in size but performs great tasks. Speaking Clock when installed is displayed right on the desktop as a digital clock. As the name says the program supports multiple languages and speaks out the time whenever a user clicks speaker button. Users can configure the application to say the time every 60 min and the duration can also be adjusted as per the requirements. By default the alarm of the clock is not enabled. However when it is switched on the default alarm sound is System Beep. The best part is that users can choose to play different music file as default alarm.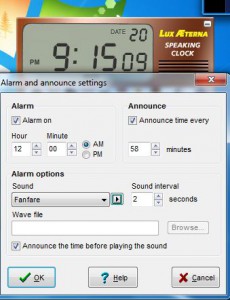 Pros
Default time in the clock is displayed in 12 hours format and can be configured to display 24 hours format if required.
Apart from built in music files users can also choose custom wave files as default alarm.
Multilingual Speaking Clock is capable of saying the time in 25+ different languages hence making the application useful for many countries and regions.
Users can also make the clock transparent on the desktop in order to avoid any obstruction that the application might create while doing important tasks.
Cons
By default only three languages are provided with Multilingual Speaking Clock and the rest of the languages are required to be downloaded before they can be integrated with the application.
Download Link: http://download.cnet.com/3001-2350_4-10020655.html?spi=16b4b323941e65012cee1c0ca46af6b0&part=dl-Multiling