Learn Professional Typing at Home with Type Faster Typing Tutor
Typing Tutor is a freeware tool to teach professional typing to the learners. The application is small in size and therefore consumes no extra memory and processing. Typing Tutor is mostly liked by the people who are planning to join any typing classes in order to increase their typing speeds. Apart from this the application can also be useful for the people who are into software development and need to increase their typing speed in order to perform efficiently in their offices. Not only computer related people can use this application Typing Tutor can also be useful for those who are into some different professions and want to learn professional typing to expedite their daily tasks.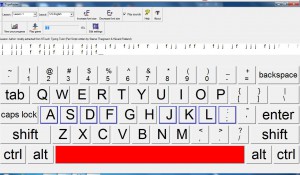 Pros
When the application is initiated after the installation it provides a virtual keyboard on the full computer screen.
Typing Tutor also has many built in lessons to make the application useful for the people of any level. Also lessons can be customized as per person requirements.
In order to provide users more simple and straightforward interface font sizes of the virtual keyboard can be increased or decreased according to the comfort levels of the individuals.
Cons
No cons are experienced or reported while using Typing Tutor application till date.
Download Link: http://sourceforge.net/projects/typefaster/files/typefaster/0.4.2/TypeFaster-v0.4.2-install.exe/download