Free Virtual Keyboard for Windows
Free Virtual Keyboard is a free virtual keyboard software that can display the hardware keyboard on your monitor with some attractive features. If you want to extend your keyboard's functions Free Virtual Keyboard is the best option for you.
If some keys in your keyboard are not working and you are not willing to buy another keyboard Free Virtual Keyboard can be a lifesaver for you. You don't have to worry now if your space or shift key is not working as you can work on your PC using Free Virtual Keyboard. You can also enjoy some elegant features in Virtual Keyboard that are not available in Free Virtual Keyboard. There is an autorepeat function that can repeat all relevant keys if pressed continuously. And you get to enjoy all these features for free.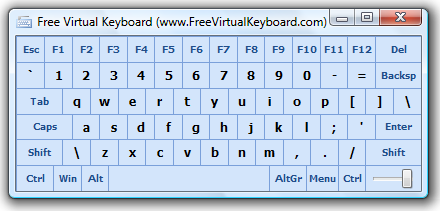 Free Virtual Keyboard comes with an attractive easy-to-use user interface. It's easy to use as it comes with QWERTY layout. You can adjust the transparency and size of the keyboard if necessary. You will also find different color schemes inside the software so you can change the user's interface if you don't like the default color scheme. There are three different keyboard types inside the software but there is no help file inside the software to guide you.
Features of Free Virtual Keyboard:
Use the hardware keyboard virtually
Three different keyboard layouts
Free Virtual Keyboard is available for download at Free Virtual Keyboard's official website. It's only 205KB in size and supports Windows 7 Vista XP 2003 Server 2008 and 2000. Try Free Virtual Keyboard Free