Repair Registry Entries with Eusing Free Registry Cleaner
Eusing Free Registry Cleaner is a free system utility that helps you to clean and repair registry problems quickly. You will be able to fix registry problems with just a few clicks. If you are looking for a simple free registry repair software to speed up your PC and clean registry problems Eusing Free Registry Cleaner is the best software for you.
You can easily remove all the faulty registry entries from your PC using this freeware. This faulty registry includes shared DLL files invalid shortcut paths help files fonts and programs. You can also create a backup of registry files or restore previous registry entries if needed. Once you are done cleaning all the invalid files and shortcuts from your PC you will be able to improve your PCs performance and make it more stable.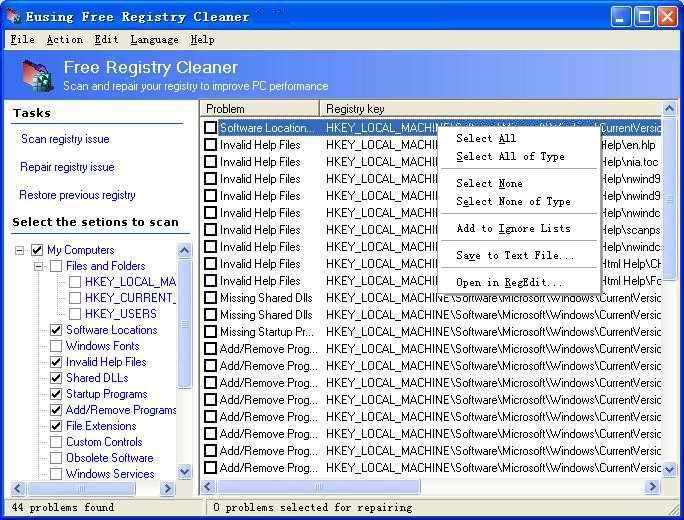 This free registry repair software comes with simple easy-to-use user interface. You have to let this freeware scan your PC before fixing the invalid registry entries. Once this freeware is done finding all the invalid entries it will improve your PCs performance and make it more stable and fast. Moreover all the repaired entries will be backed up and you can restore any changes whenever you want with Restore registry backup option.
Features of Eusing Free Registry Cleaner:
Repair invalid registry entries shared DLL files programs and help files
Create backup of repaired registry entries
Restore repaired registry entries with Restore registry backup option
Eusing Free Registry Cleaner is available for download at Eusing's official website. It's only 955KB in size and supports all versions of Windows including Windows 98. Try Eusing Free Registry Cleaner Free