Gadwin PrintScreen: Free Screenshot Capturing Tool
Gadwin PrintScreen is a free screen capturing software that works better than the Print Screen button available on your keyboard. If you want to capture screenshots and share your desktop activities with others Gadwin PrintScreen is the best option for you.
Usually people go through a long process when capturing screenshots using the Print Screen button. You have to use the Print Screen button for capturing a screenshot and it goes into your clipboard. Then you have to open an image-editing application for pasting the screenshot and then save it. But this whole process is streamlined in this free screen capturing tool. You can set the print screen button or any other button for capturing screenshots and it will directly save the screenshot in folder you want.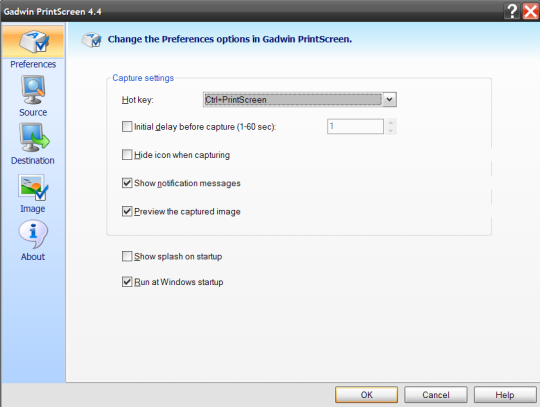 Using this free screen capture app is very easy. You can just select a window and save screenshot or you can capture screenshot of the whole screen. Once you have captured a screenshot you can send it directly to your printer or as an email if you want. This freeware can also resize your image automatically to specific dimension if you want. Moreover you can select the image format and save your image in your preferred format.
Features of Gadwin PrintScreen:
Share your desktop activities with others easily
Capture screenshot of just a window or the whole screen
Send your screenshots directly to printer or as an email
Gadwin PrintScreen is available for download at Gadwin's official website. It's only 2.75MB in size and supports all versions of Windows. Try Gadwin PrintScreen Free
Gadwin PrintScreen: Free Screenshot Capturing Tool