Free Web Virus-Security Scanner
The more time I spend online the more I feel like leaving computers behind and doing something completely different something that would only require me myself and I without having to use any tools that change with each week. Does this sound like cowardice? I think not since I can't remember the last time I had virus-related problems it's only the fact that the Internet seems to become less friendly with each day and the information I can find online gets less relevant with each spammy site that arrives on the Web and doesn't get blown out of it by Google...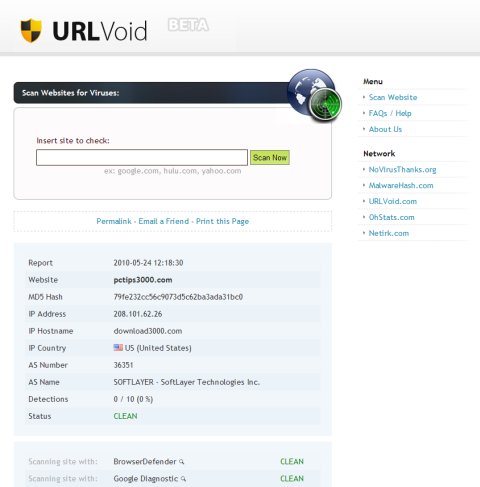 ... but since I also love a lot of things related to this industry especially helping people by writing useful stuff I think I'll stick around for a while. Since I don't think I'll ever find a cure for the spam on the Internet (I am thinking about Google-tolerated spam here if you know what I mean) today I'll tell you a few words about a free Web virus/security scanner called URLVoid.
What about it? The workflow is really easy - you load URLVoid into your browser enter the address of a site you want to visit and then take a look at the information that comes out. URLVoid uses 10 external online scanners to check how secure a certain site is including Web Security Guard McAfee SiteAdvisor Google Diagnostic or Norton SafeWeb.
My final thoughts about this resource? As long as you don't see at least 5-6 threats detected don't get alarmed by that "DANGEROUS" status red text... after all you're also defended by your firewall and antivirus software right? Stay safe with or without URLVoid! ;)