Free Windows Cleanup Tool: Free System Utility
Free Windows Cleanup Tool is a free system utility that helps you to keep your PC clean and optimize its performance. This free system optimizer is actually a pack of free utilities that can help you to clean junk files defragment your hard disk and registry and perform other tasks.
This free system maintenance utility helps you to remove invalid registry entries internet usage history junk files and other unwanted files from your PC easily. You can also clean the activities of other popular programs easily with the help of different plug-ins supported by this freeware. There is a cookie keeper included in this freeware which helps you to keep some specific cookies you want while removing all the other cookies. There is also a free Window sweeper that helps you to remove cookies history cache typed URLs index.dat and autocomplete memory from your internet browsers and temp folder.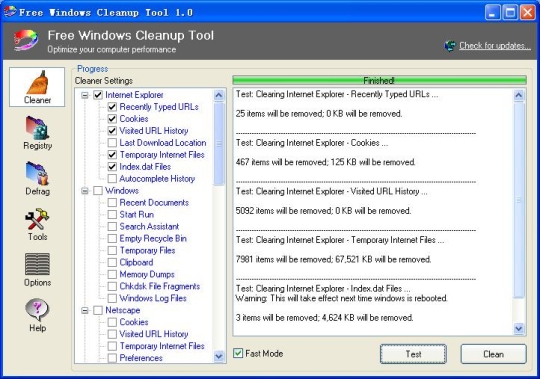 The user interface of this free system cleaner is simple and easy-to-use. The first tool you will find inside this freeware is Cleaner and it can help you to clean exactly the thing you want to clean nothing else. You will find all the necessary settings inside the cleaner. There is also a registry backup included in this free system optimization utility for keeping a backup of all the registry entries you remove. Other attractive tools included in this freeware are Registry and backup tools startup manager defragmentation tool and registry tool.
Features of Free Windows Cleanup Tool:
Optimize your PC's performance
Clean junk files temporary files browsing histories from your PC
Backup registry entry before cleaning them
Supports additional plug-ins for removing temporary data of third-party apps
Free Windows Cleanup Tool is available for download at Windows Cleanup Tool's official website. It's only 1.37MB in size and supports Windows 98 and higher. Try Free Windows Cleanup Tool Free