Frostwire for P2P File Sharing
Frostwire yet another P2P application is open source and easily available from its official website. The software contains built in search feature using which a user can search for several file formats including .AVI .mpg .jpeg etc. Unlike torrent clients Frostwire users need not to spend several hours in hunting torrent files of their desired applications. On the contrary with the help of search feature users can specify the name of the file they want to find in the search box and once the files are found they can download them directly from the interface. However the application also supports torrent files and when installed it automatically associates .torrent files with itself. In all the application offers straightforward user interface which is easy to use and quickens the download process at the same time.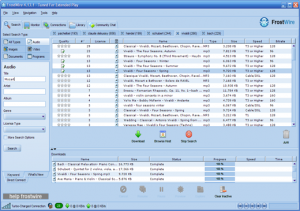 Pros
Users can specify the maximum upload and download bandwidth speed.
Users can also specify the number of concurrent downloads that the application will allow.
Chat facility is available in the application.
Even if any media file is not completely downloaded users can use preview feature to check the quality of the file.
Cons
Frostwire requires a shared folder on the user's local PC which can expose the machine to the hackers and make it vulnerable to the malicious attacks.
Download Link: http://www.frostwire.com/